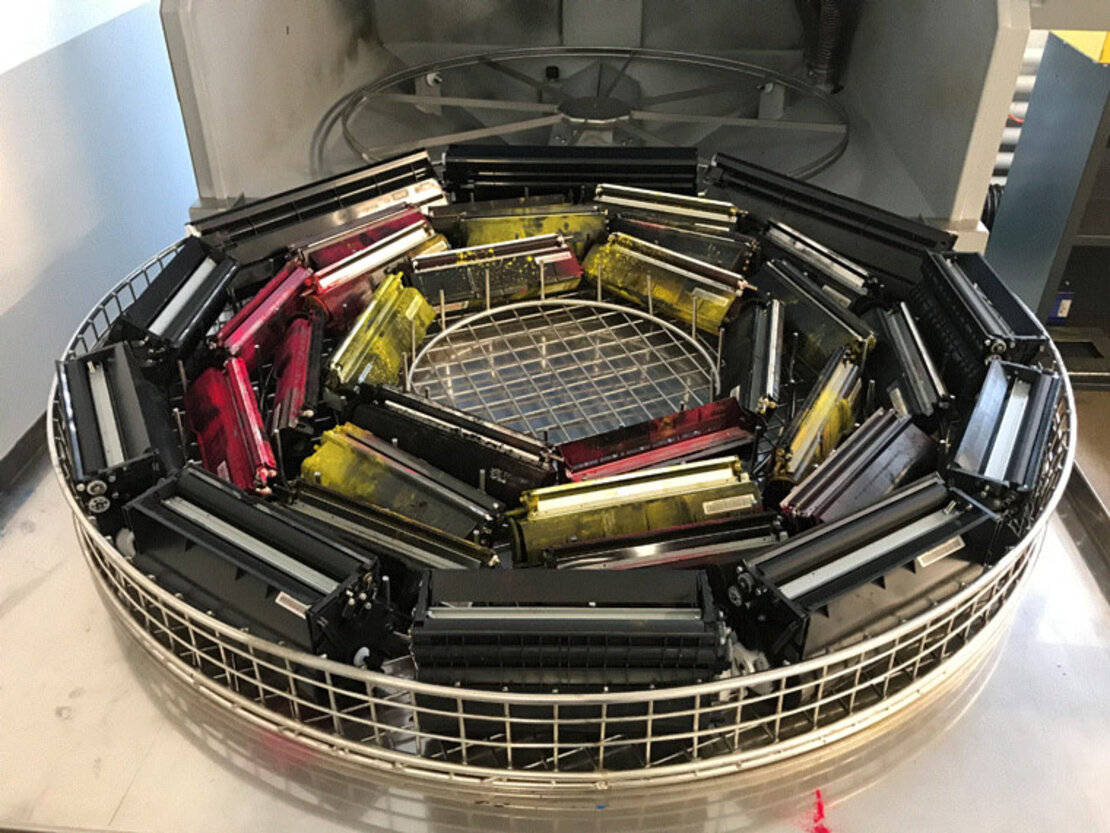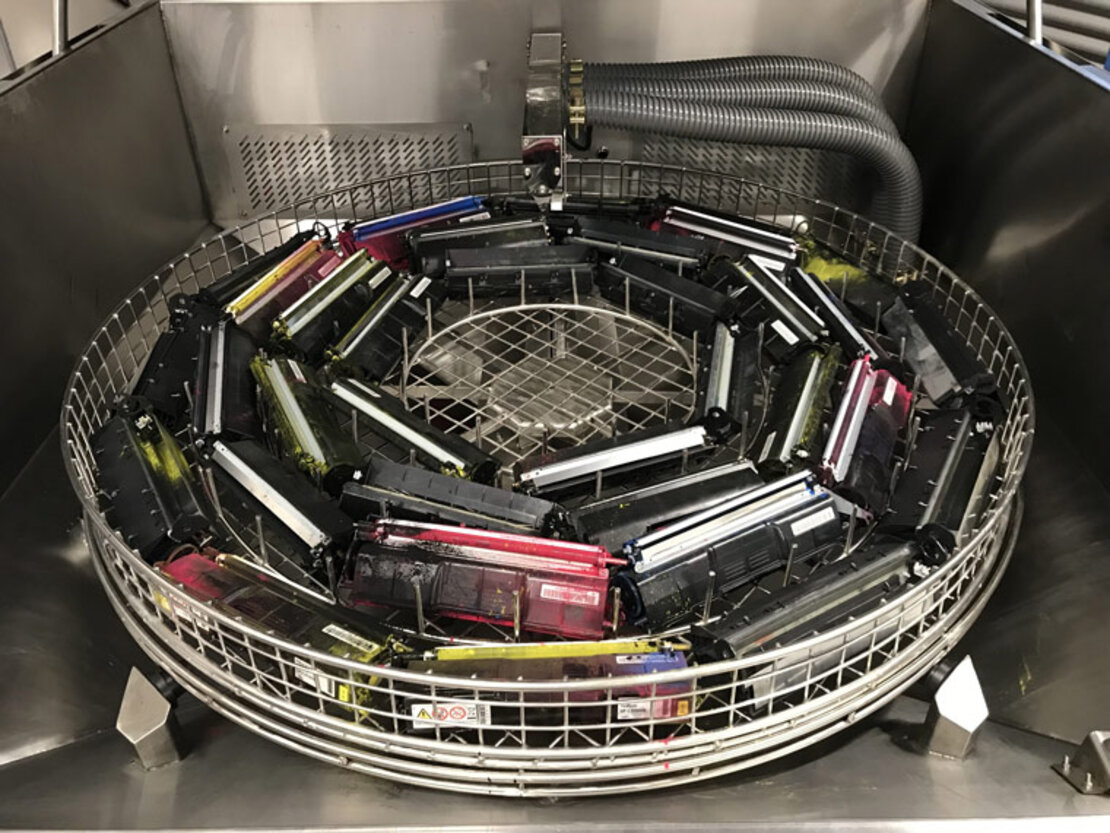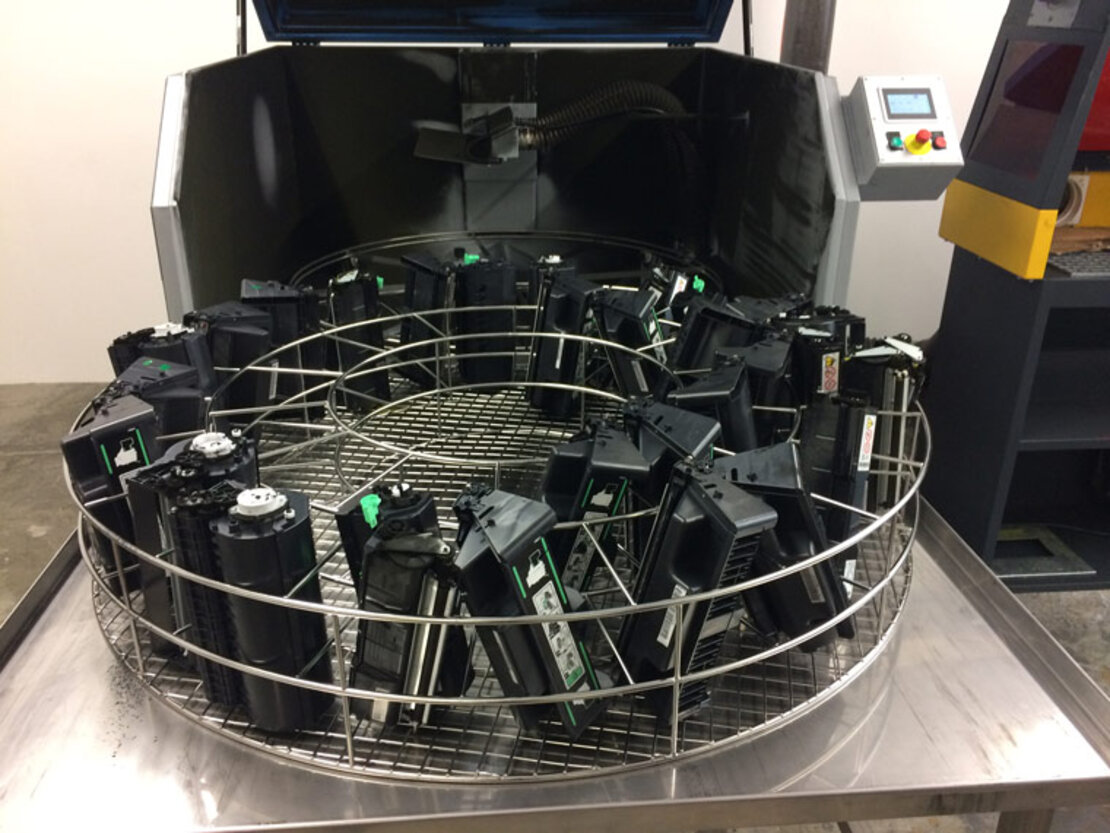 Clean and empty your waste toner boxes, toner bottles, toner kits and laser cartridges with TurboClean™ 1350/1500/1800 Revo
Toner cartridges cleaning machine highlights
Large production efficiency gain (9-12 times)
Very high degree of cleanliness on a consistent basis
Reduce handling (min.-30%)
Reduce toner dust contamination (-99%)
Reduce noise emission (-40%)
Cleaning chamber with sloping walls. All the toner is guided by this construction to 100% directly to the suction (cleaning no longer necessary)
Adjustable height of the cleaning nozzles (no additional tool required)
Basket carrier with 4 guides and mechanical torque load limit
Touch screen controls with up to 99 programs
Vibrator to increase the cartridge emptying and cleaning (optional)
Adjustable pressure conditions (80% down, 20% above possible). The program for toner kits, toner tanks and toner bottles first empty and then increases the pressure of the botton of the cleaning system over 50%, to achieve a higher degree of cleanliness (optional)
XEROX toner kits / toner tanks / bottle 230-600mm long monochrome / color with 70-100 grams of residual toner. Capacity: empty / clean 4-7 sec / piece Degree of cleaning: <1 gram of residual toner (by shaking vigorously no toner comes out)
SHARP toner kits / toner tanks / bottle 230-600mm long monochrome / color with 70-100 grams of residual toner. Capacity: empty / clean 4-6 sec / piece Degree of cleaning: <1 gram of residual toner (by shaking vigorously no toner comes out)
RICOH toner kits / toner tanks / bottle 230-600mm long monochrome / color with 70-200 grams of residual toner. Capacity: empty / clean 5-8 sec / piece Degree of cleaning: <1 gram of residual toner (by shaking vigorously no toner comes out)
For this SHARP toner kits / toner tanks 500mm long monochrome / color with 70-100 grams of residual toner. Capacity: empty / clean 7 sec / piece Degree of cleaning: <1 gram of residual toner (by shaking vigorously no toner comes out)
Color toner cartridges different models. Capacity: 10-25 sec / piece, Cleaning level: <1 gram of residual toner (by shaking vigorously no toner comes out)
Color toner cartridges different models. Capacity: 10-25 sec / piece, Cleaning level: <1 gram of residual toner (by shaking vigorously no toner comes out)
The TurboClean™ high speed toner cleaning systems are designed to automatically clean and empty toner cartridges, components, toner kits, toner tanks, toner bottles, magnetic rollers.
The patented air blower and vacuum system cleans toner cartridges and their components more thoroughly than manual cleaning in a normal production environment. A sophisticated ionization system eliminates all static charges and allows even better cleaning and emptying.
The TurboClean™ automatic toner cleaning machines clean and empty laser cartridges with very high volumes of air and less pressure compared to conventional cleaning methods, providing gentle cleaning with the highest degree of cleaning for toner printer cartridges and their components, toner kits, waste toner tanks, toner bottles.
The TurboClean™, automatic laser cartridge cleaning and emptying machines combine high cleaning speed, quality, significant reduction in handling, and a fast return on investment (ROI).
Laser cartridges cleaning machine versions
TurboClean™ 1350 (monochrome/color cartridges)
TurboClean™ 1500 (monochrome/color cartridges and toner-kits)
TurboClean™ 1350 (monochrome/color cartridges)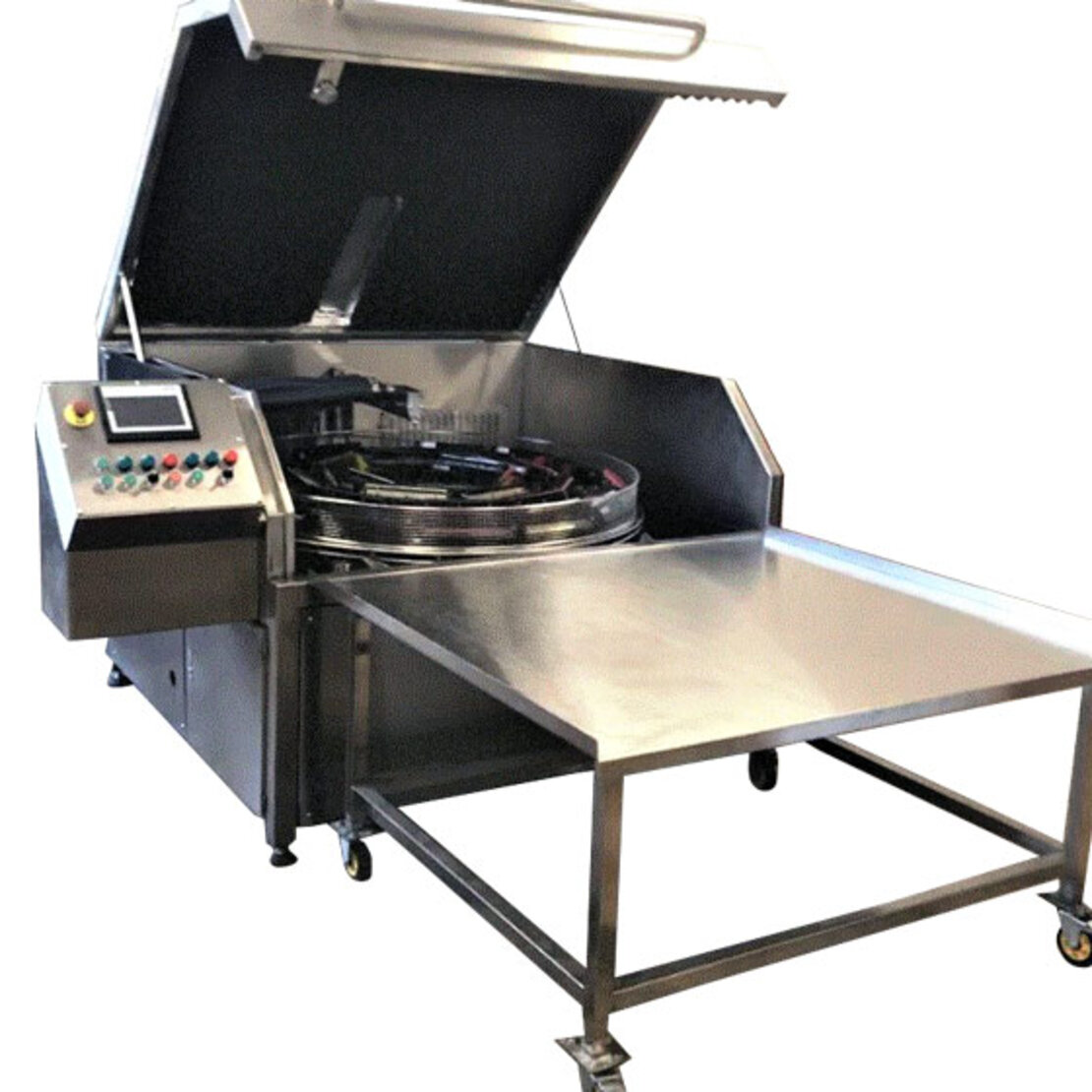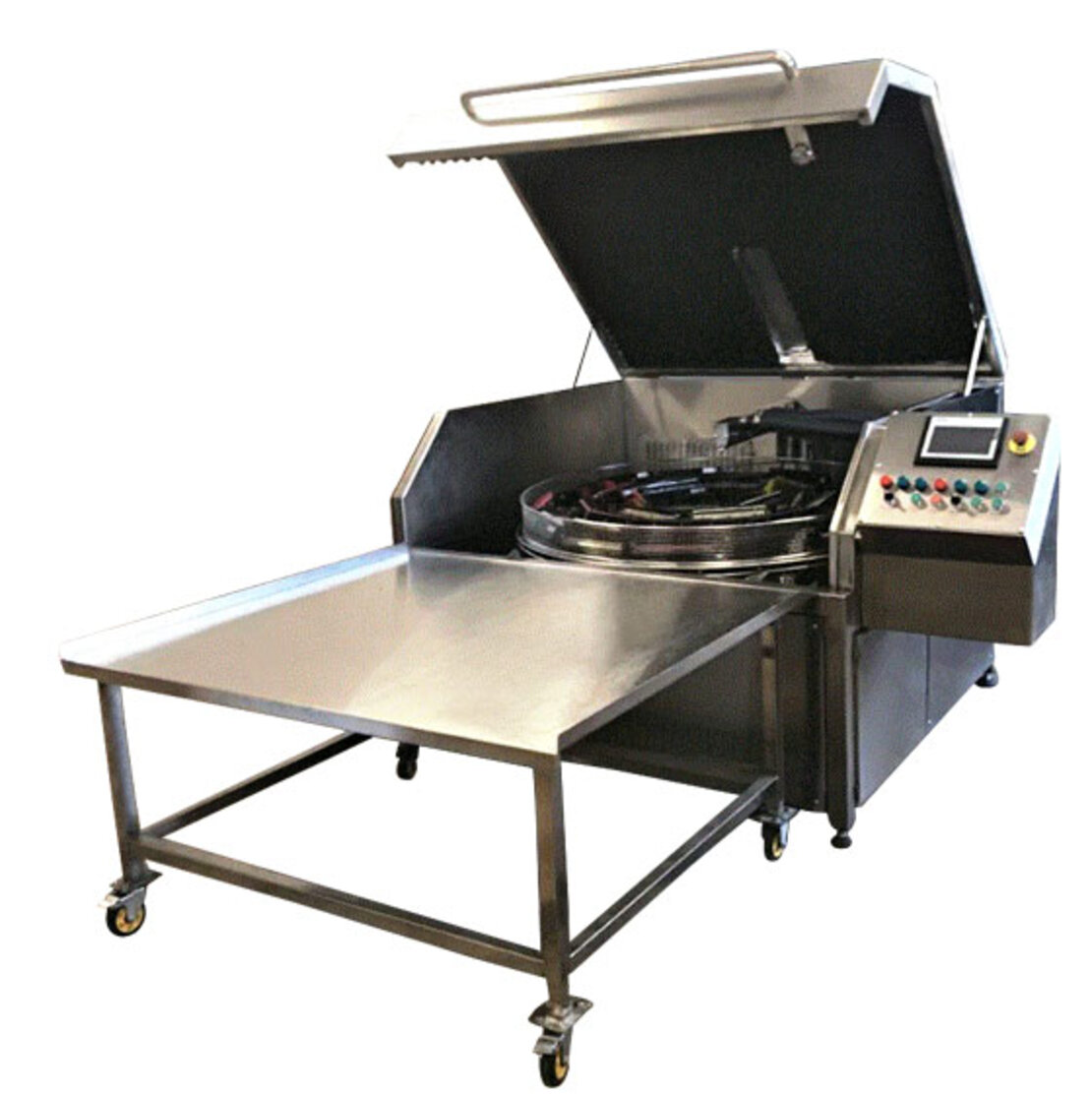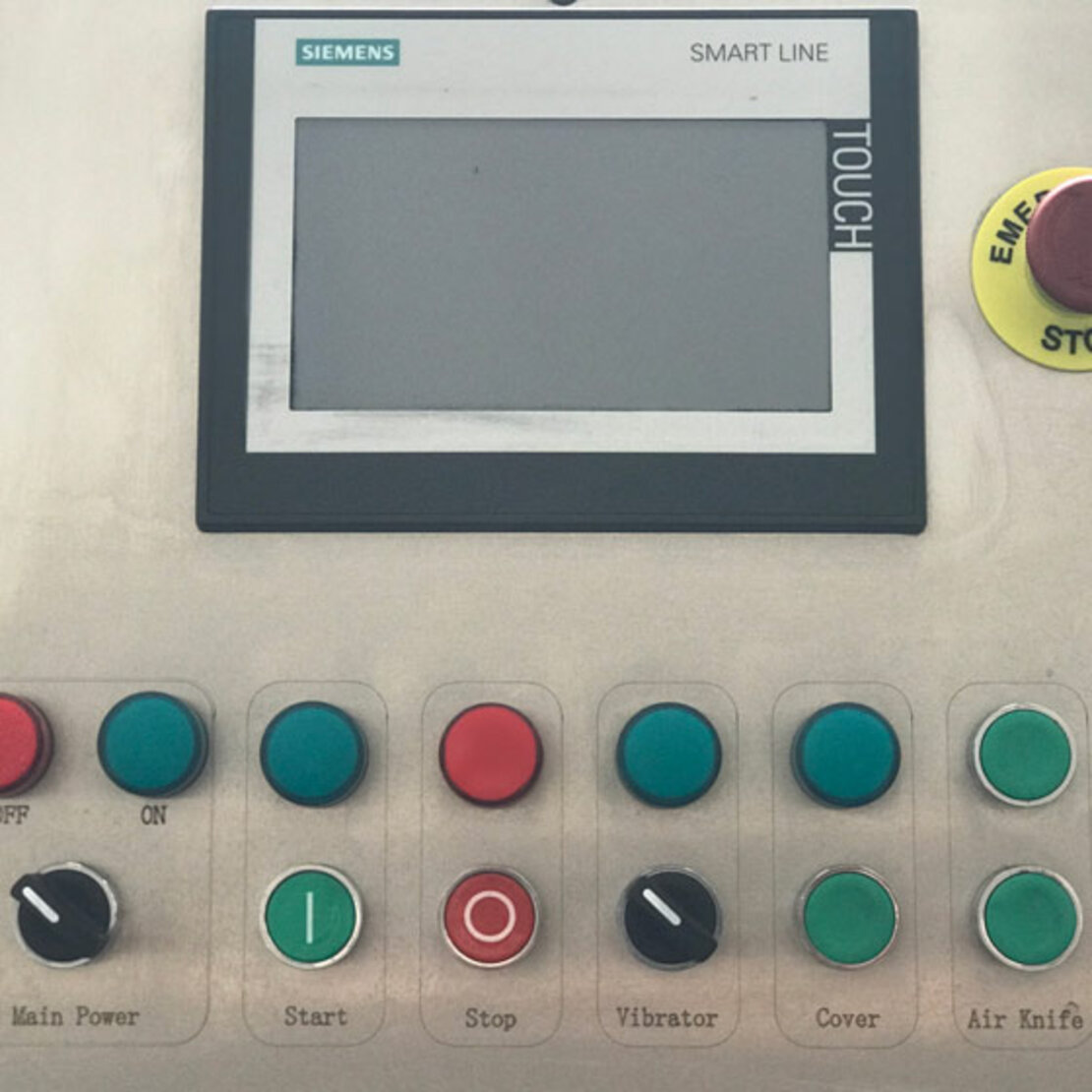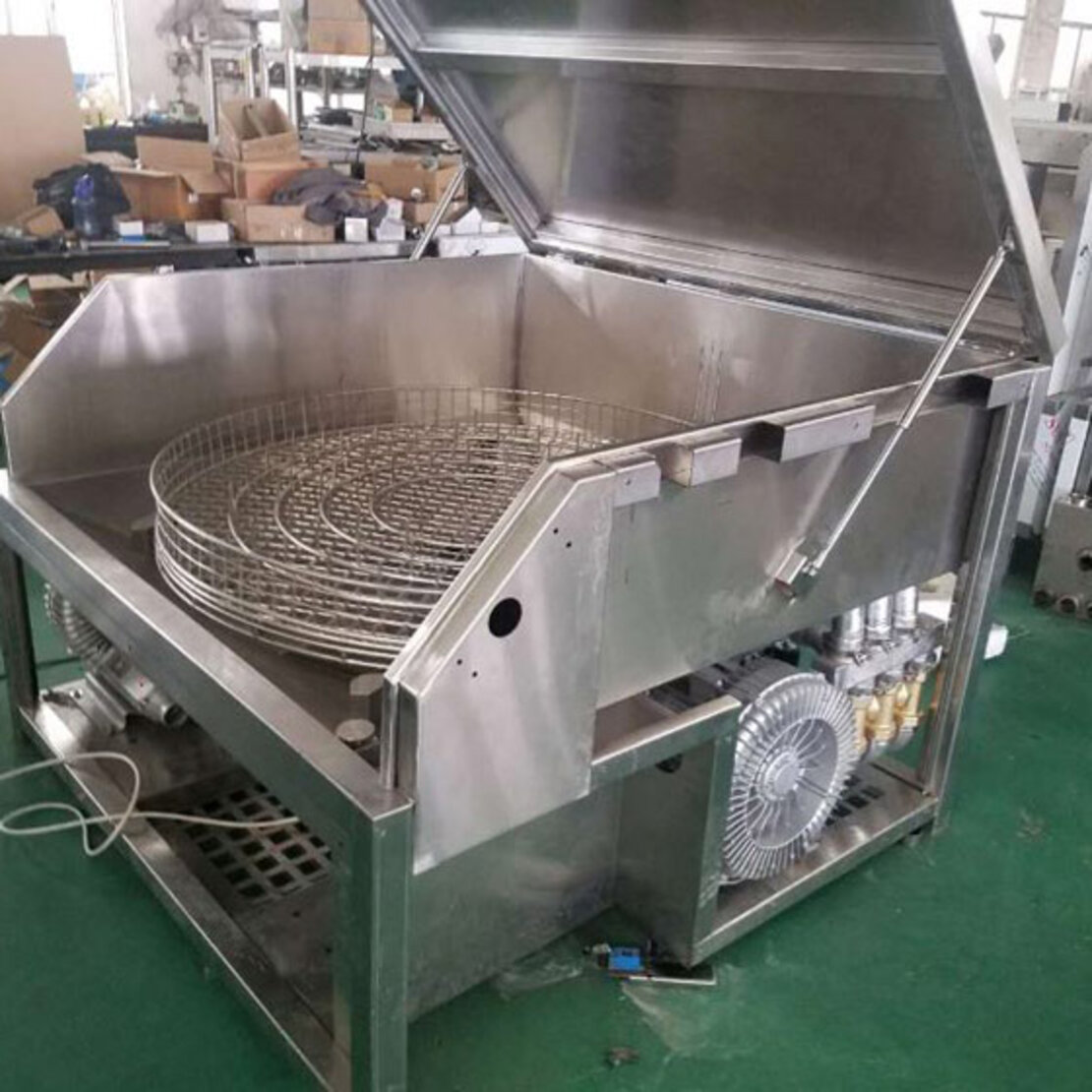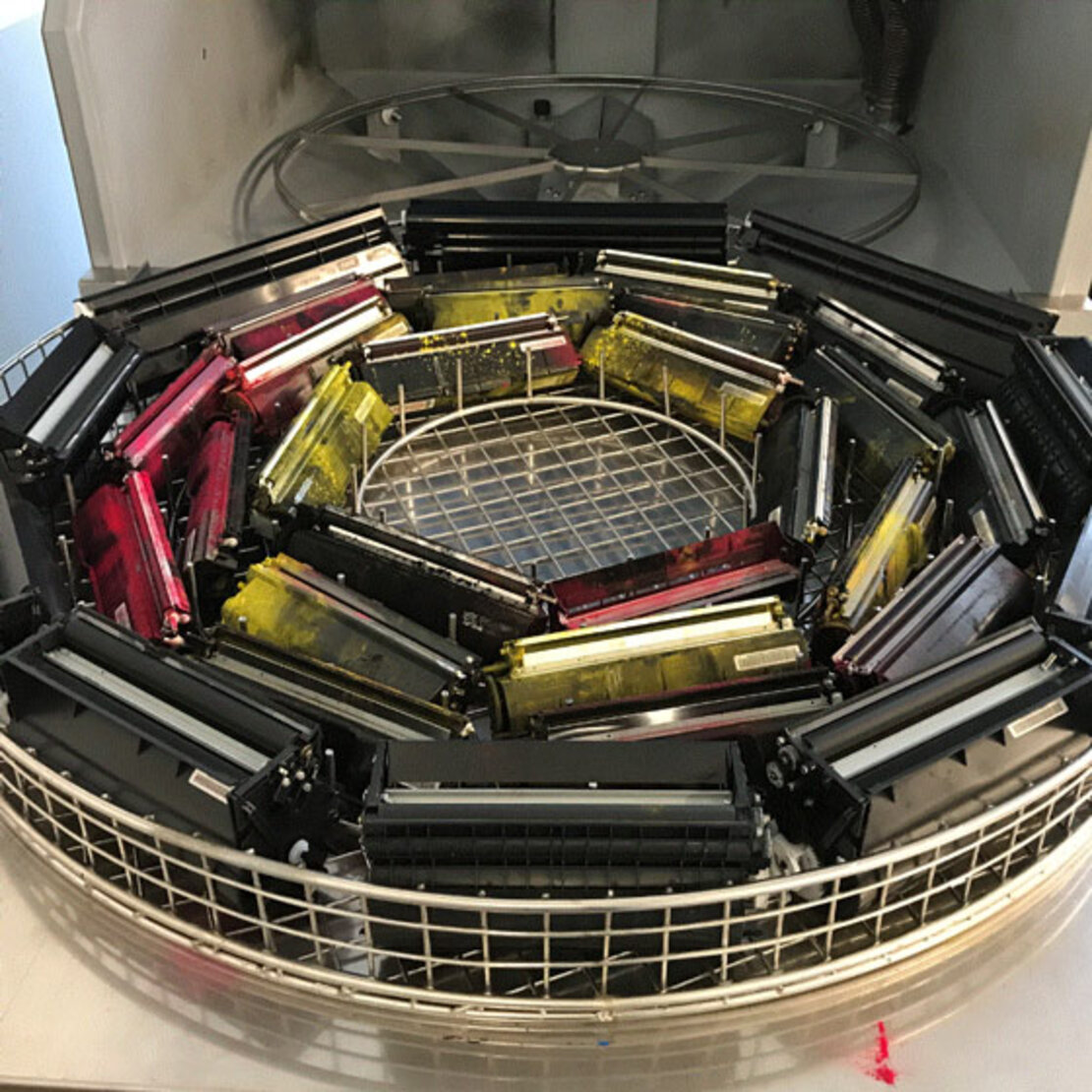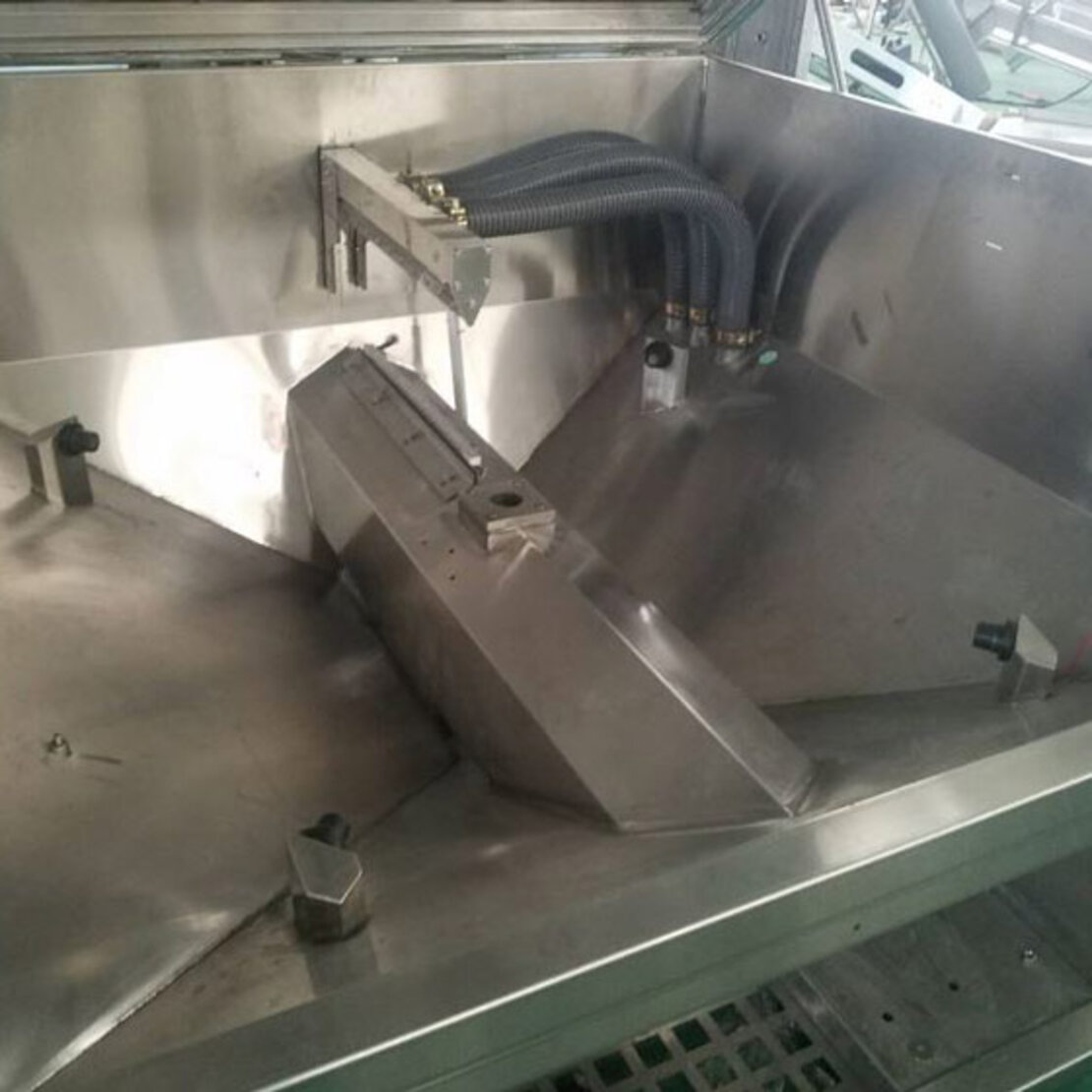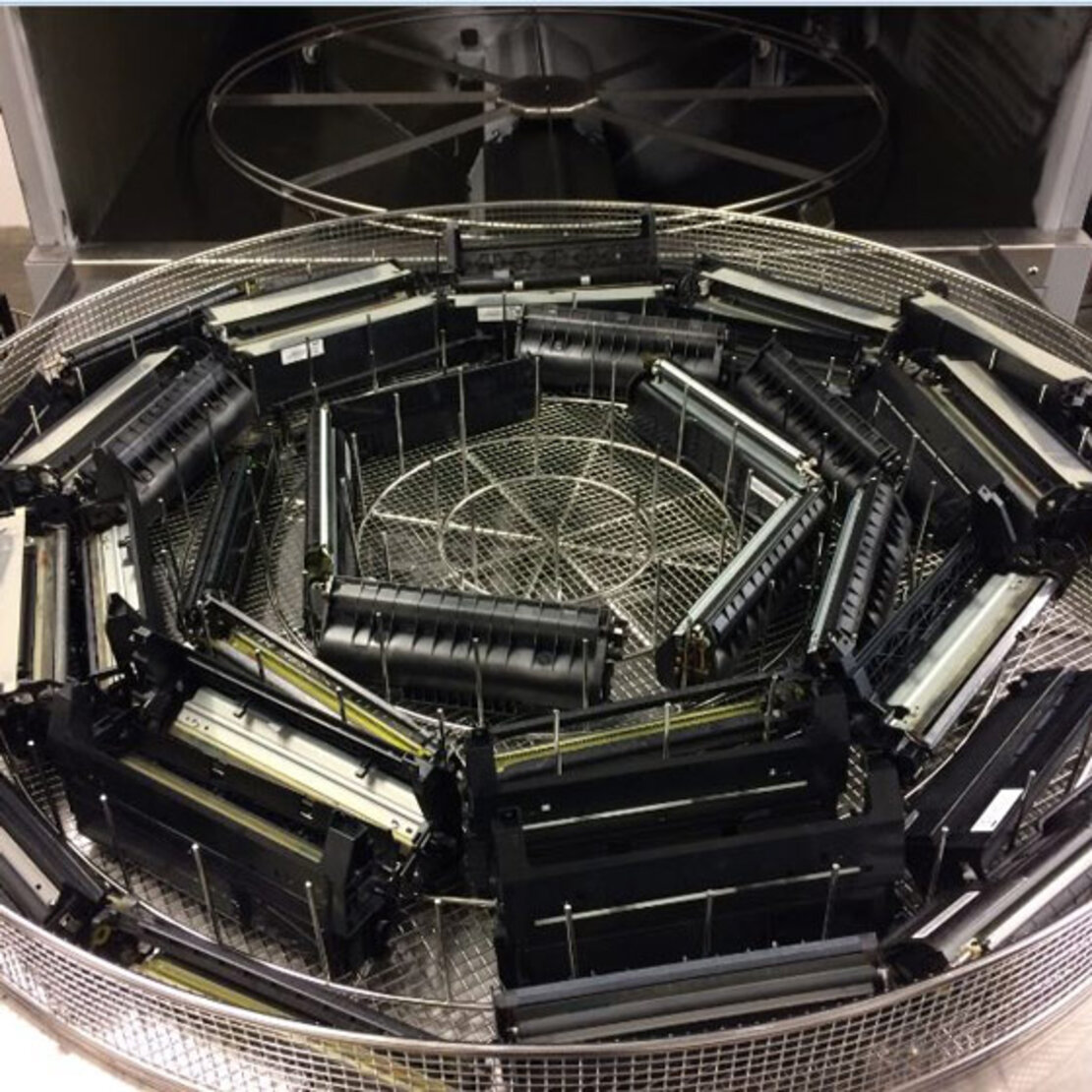 LxWxH: 1.785 x 1.745 x 1.275 mm (cover open 2145 mm)
Power consumption: 11,8 kW
Capacity: 120-280 cartridges/hour
ATEX certification available
TurboClean™ 1500 (monochrome/color cartridges and toner-kits)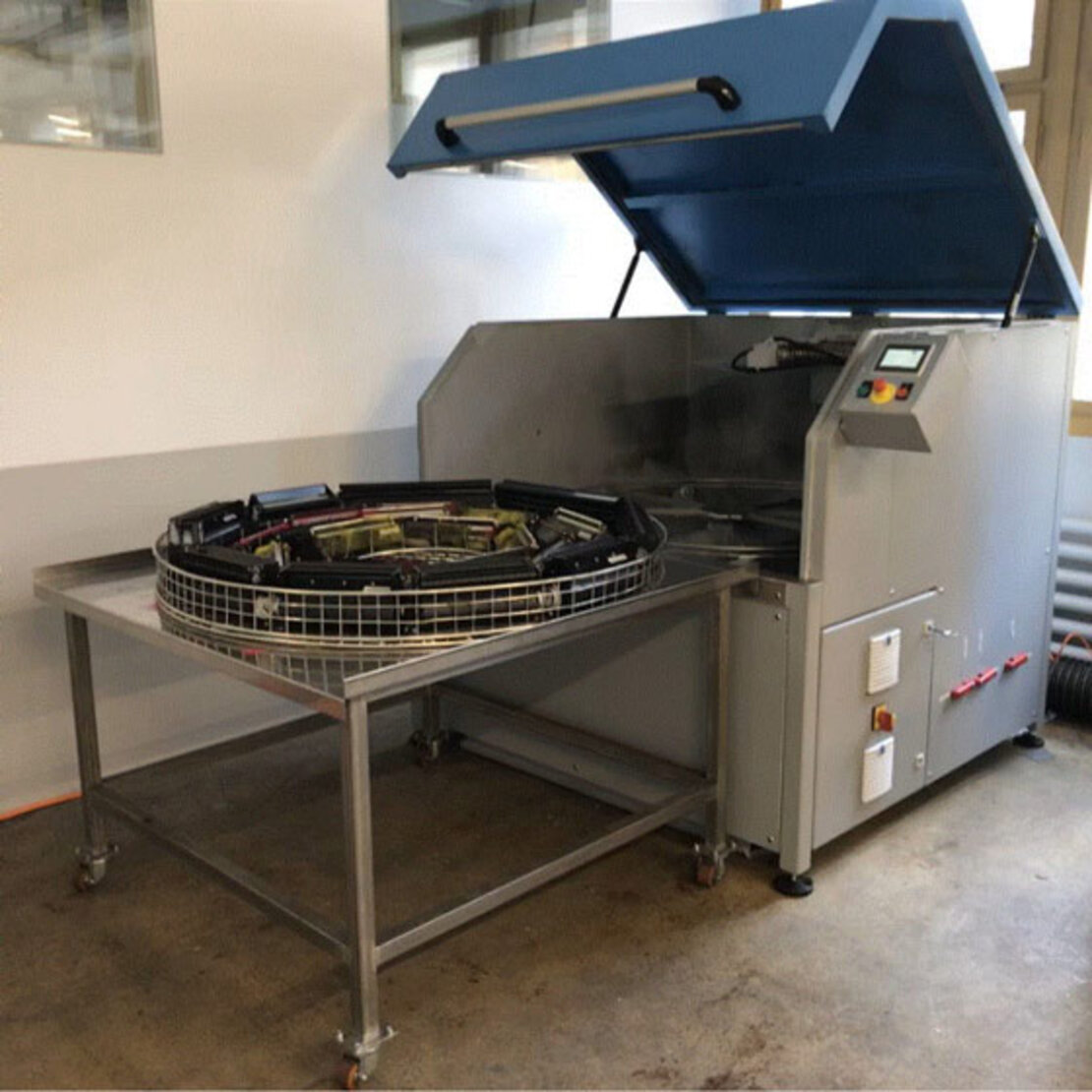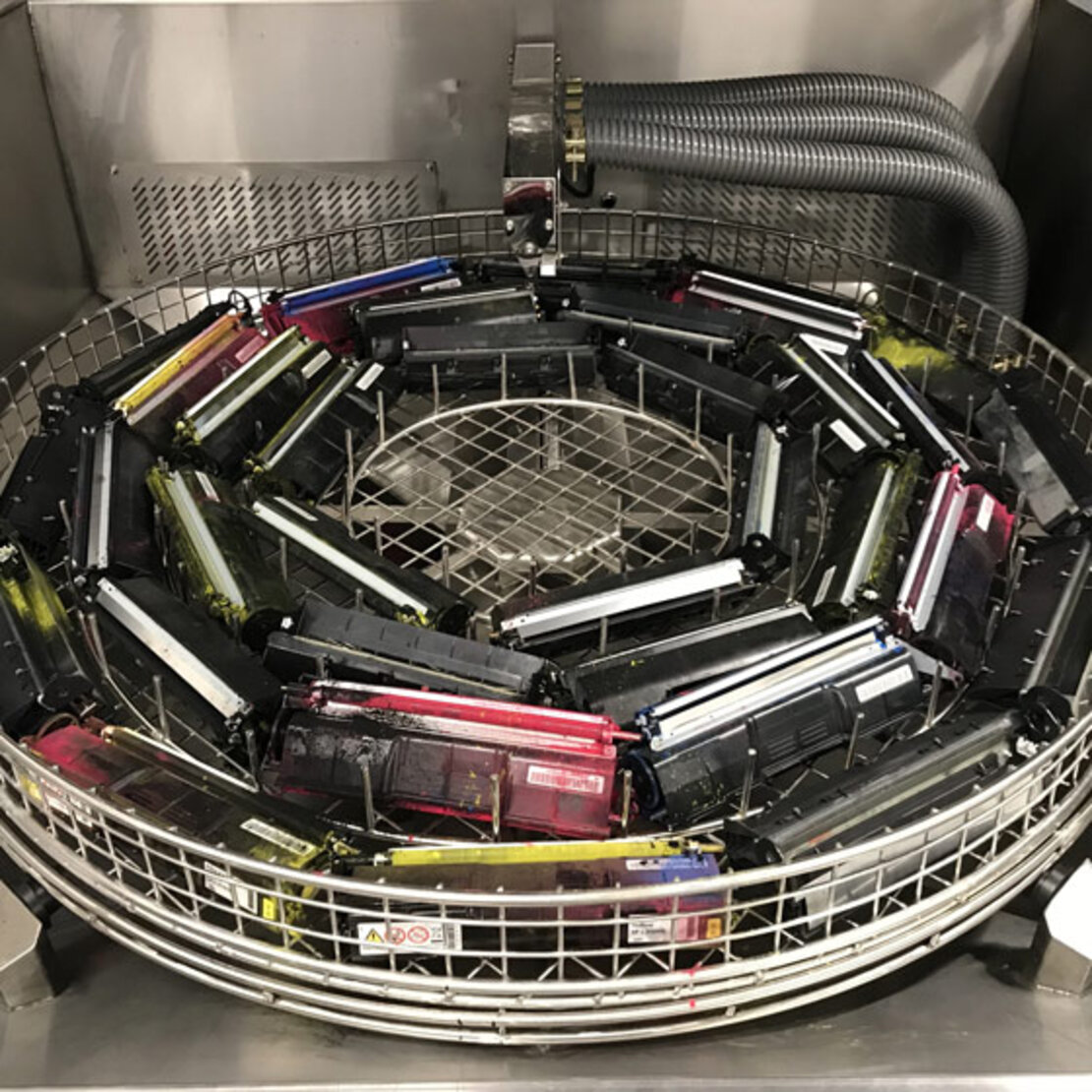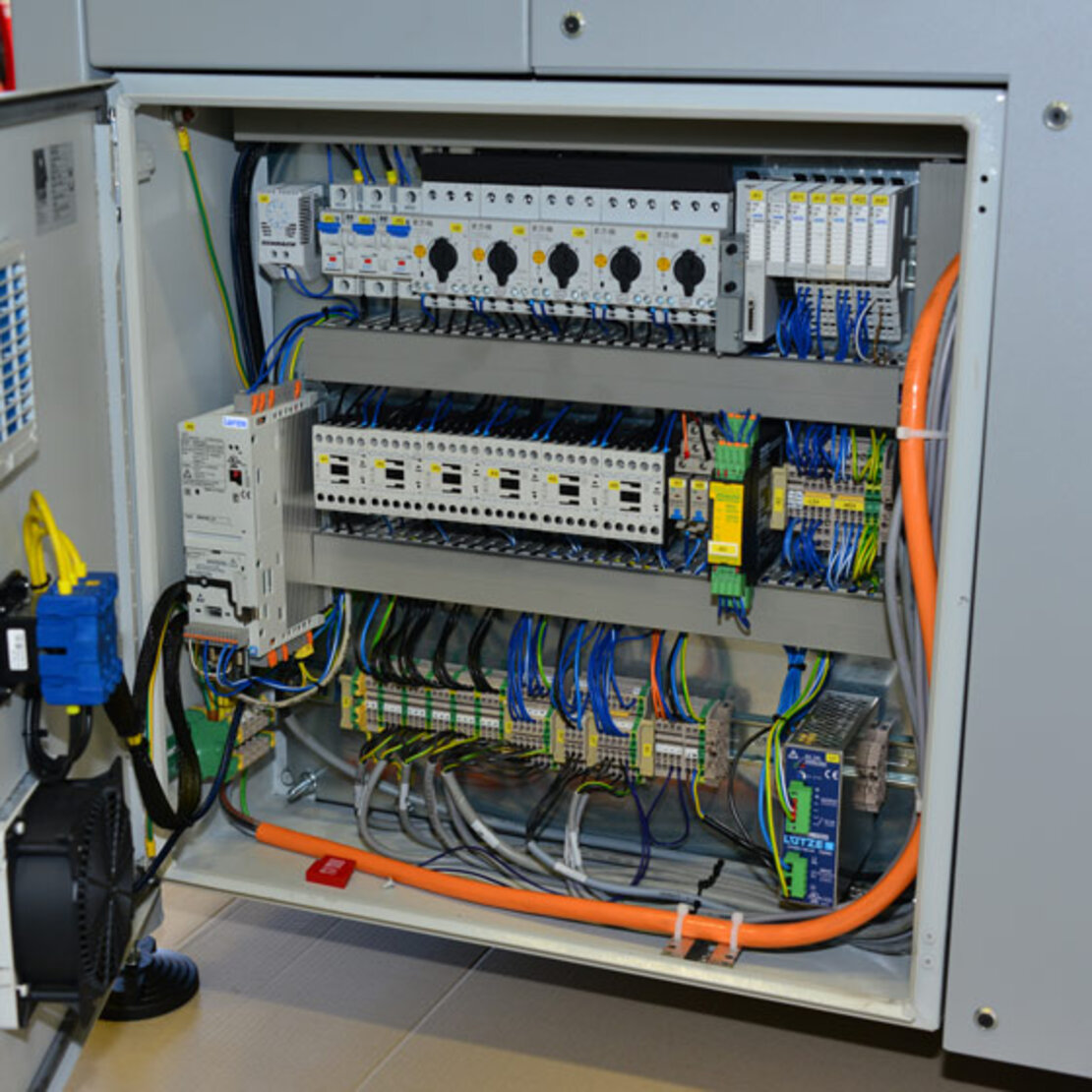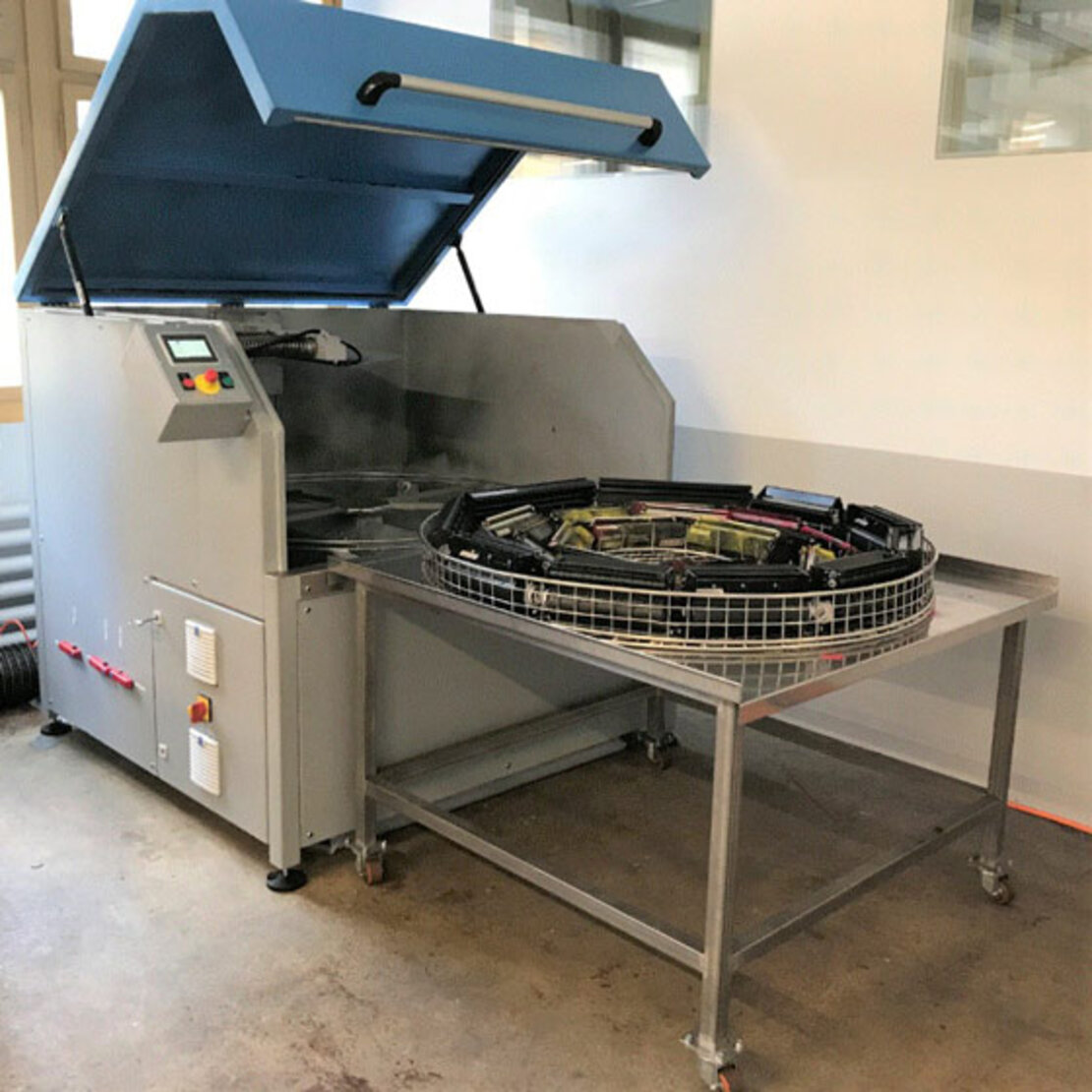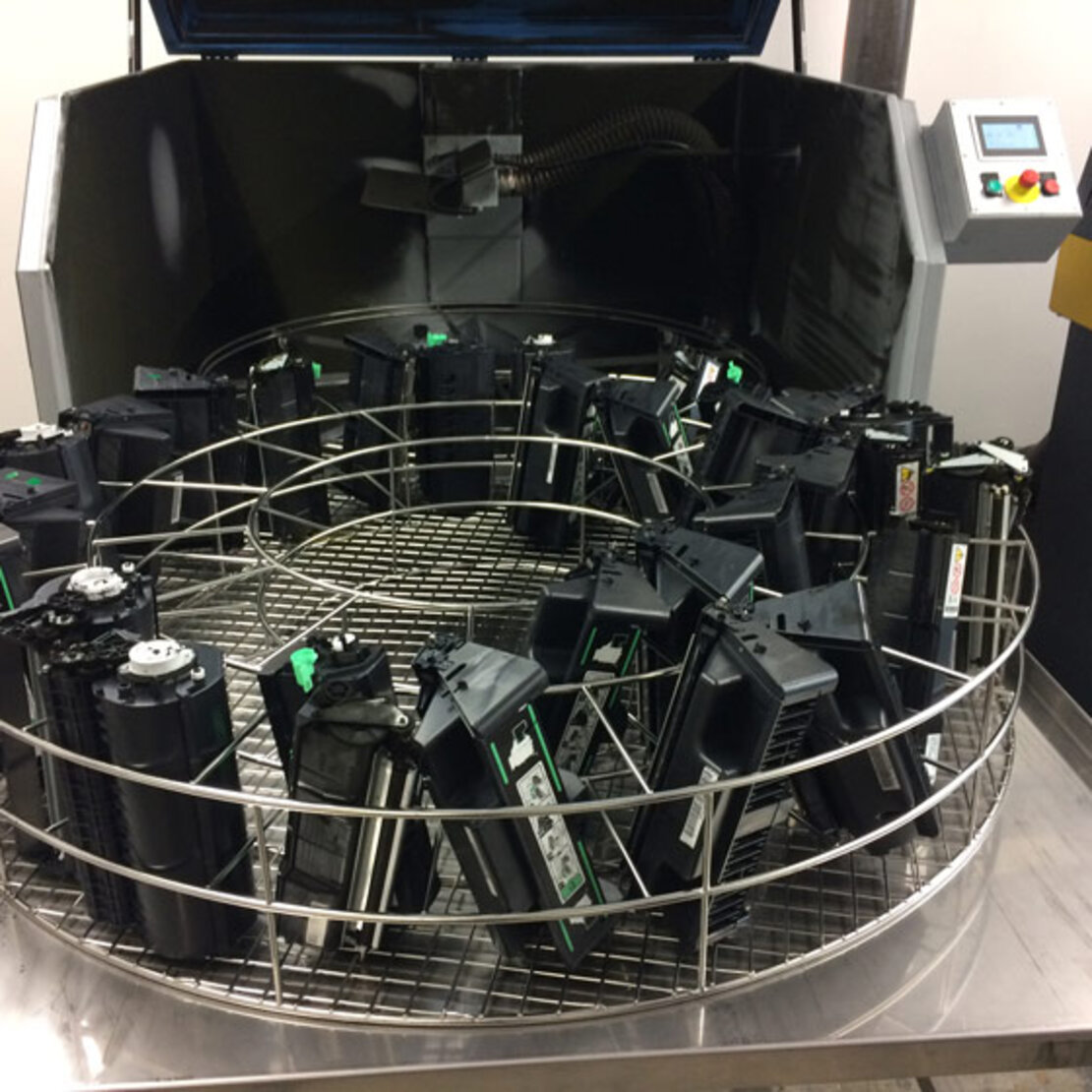 LxWxH: 1.785 x 1.745 x 1.475 mm (cover open 2345 mm)
Power consumption: 13,8 kW
Capacity: 150-380 cartridges/hour.
ATEX certification available
TurboClean™ 1800 (monochrome/color cartridges and their components, waste toner boxes, toner kits, toner tanks, toner bottles)
TurboClean™ 1800 (monochrome/color cartridges and their components, toner kits, toner tanks, toner bottles)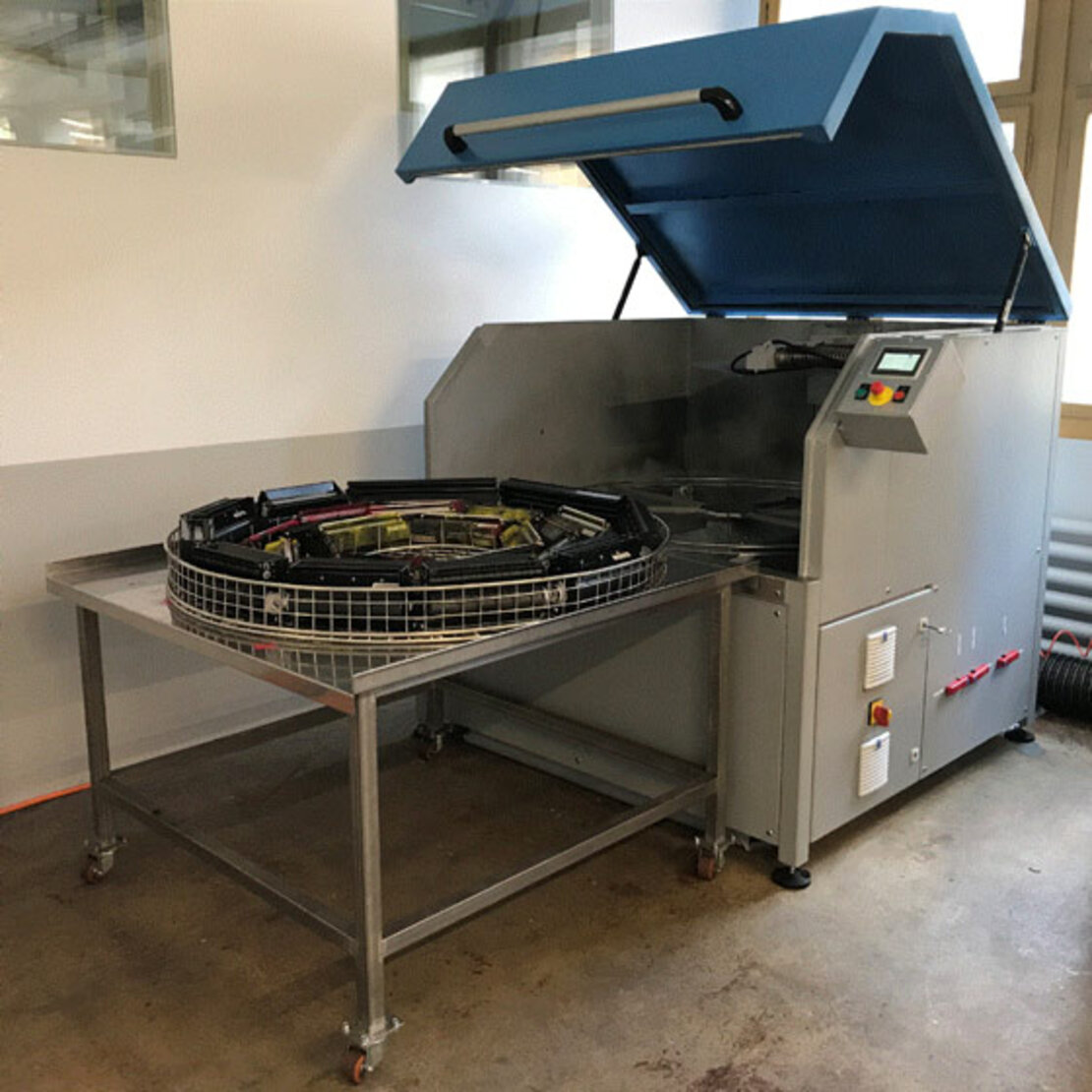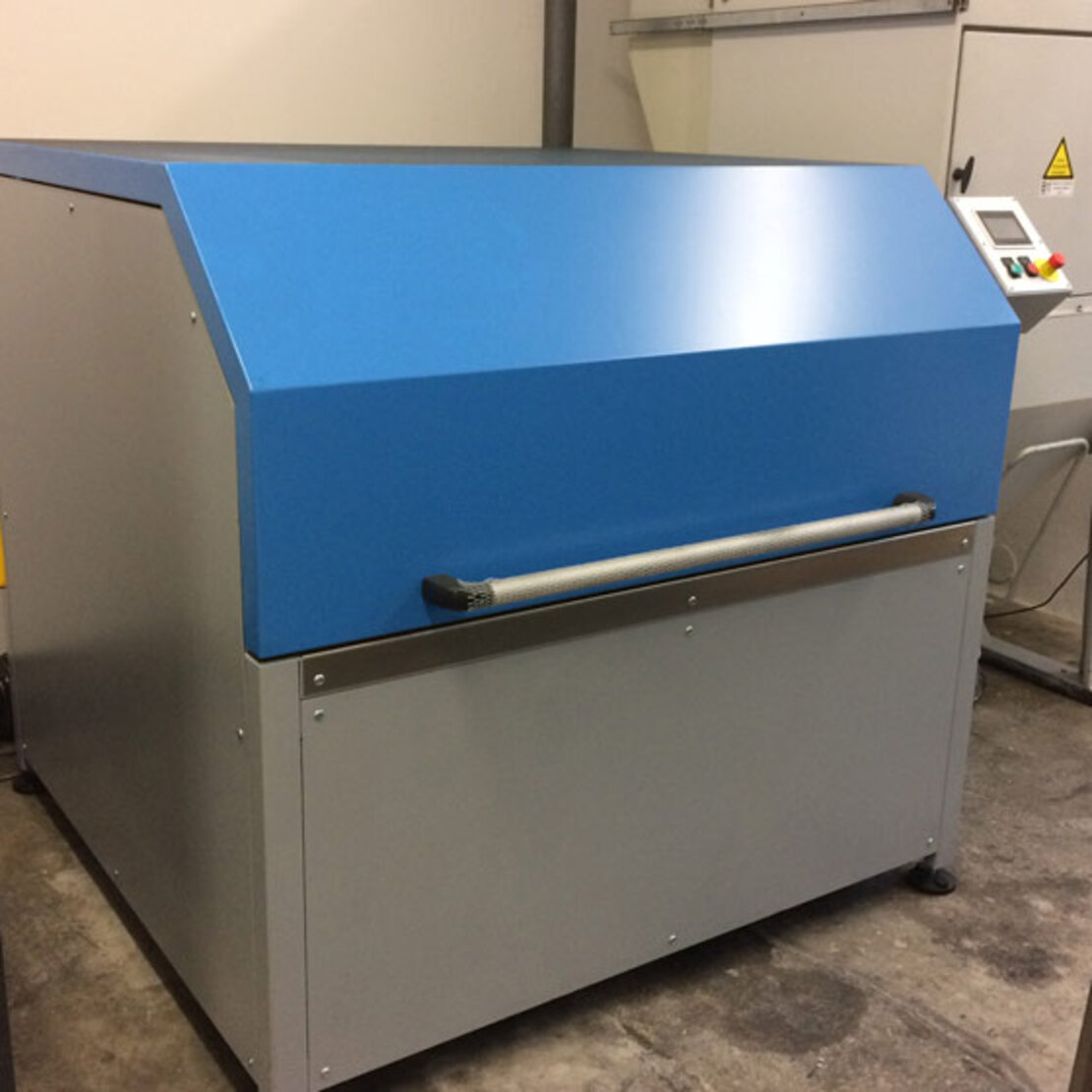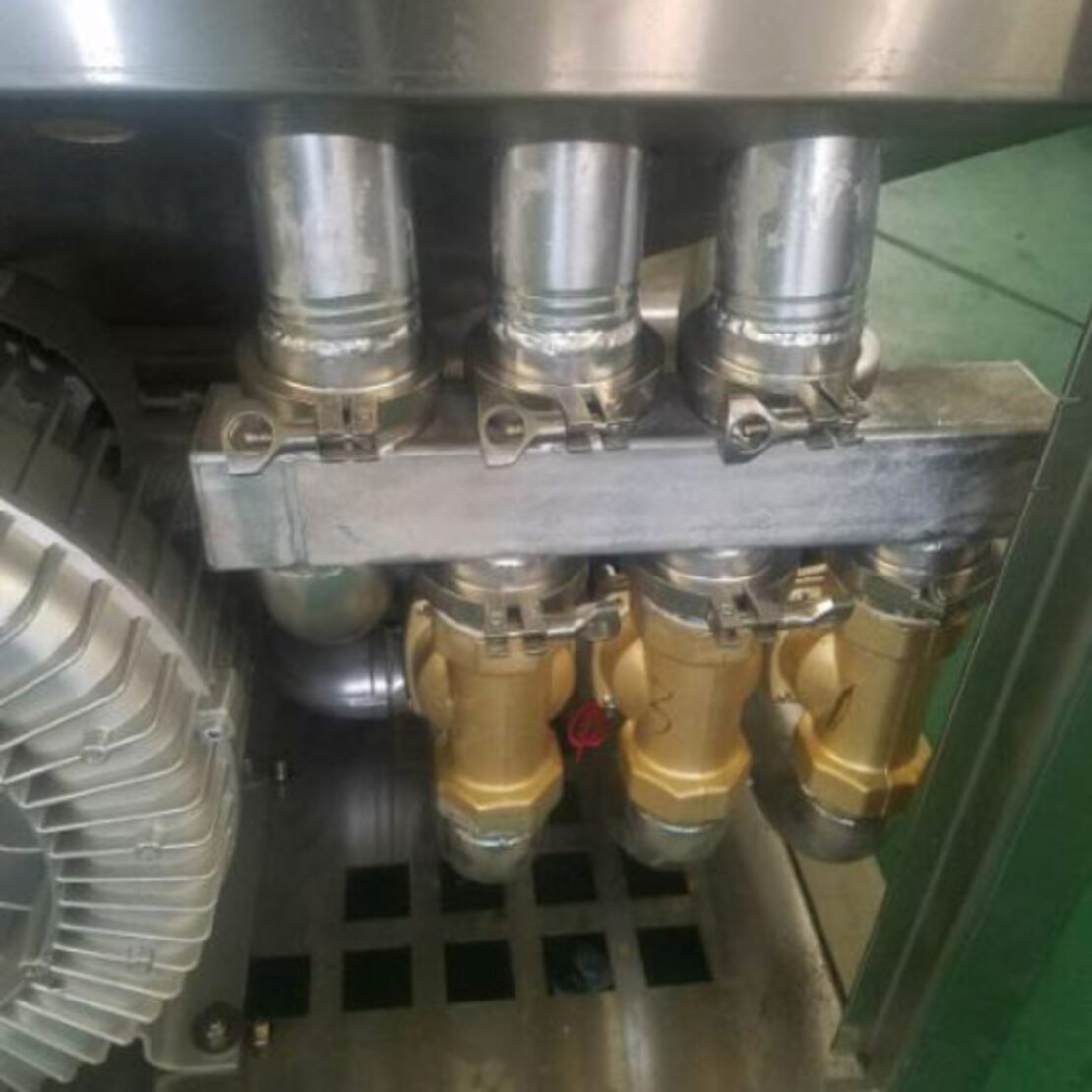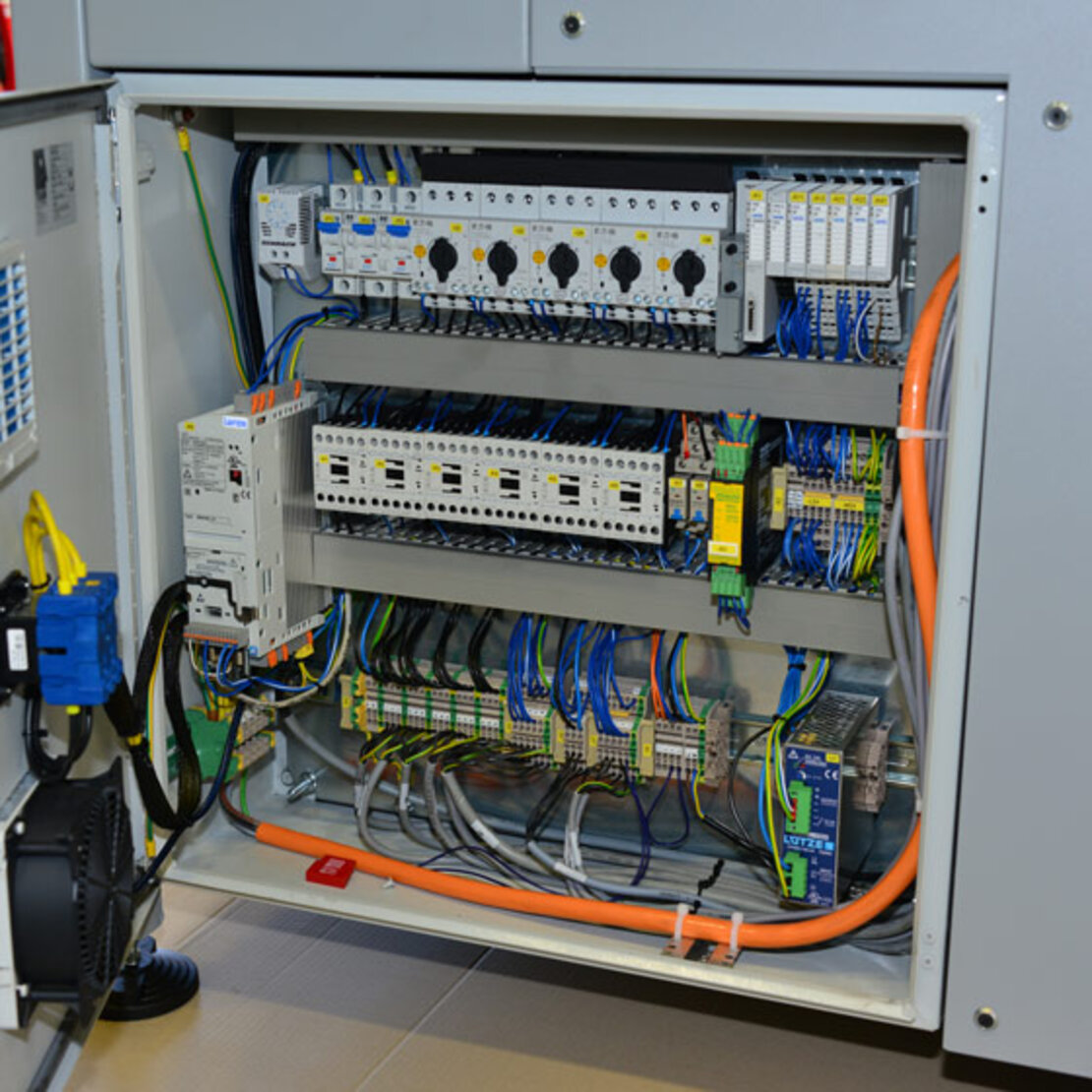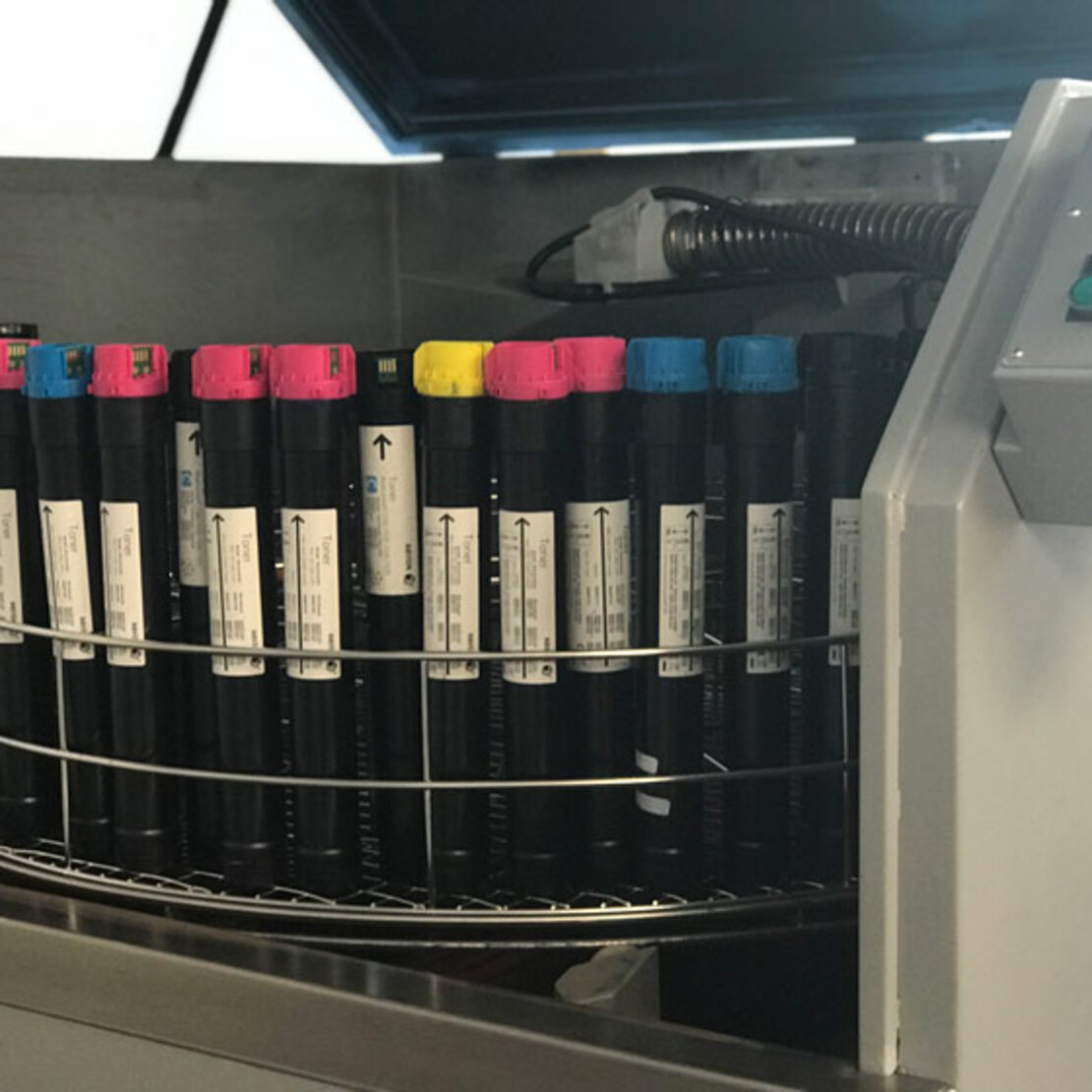 LxWxH: 1.785 x 1.745 x 1.475 mm (cover open 2345 mm)
Power consumption: 15,8 kW
Capacity: 180-450 cartridges/hour.
ATEX certification available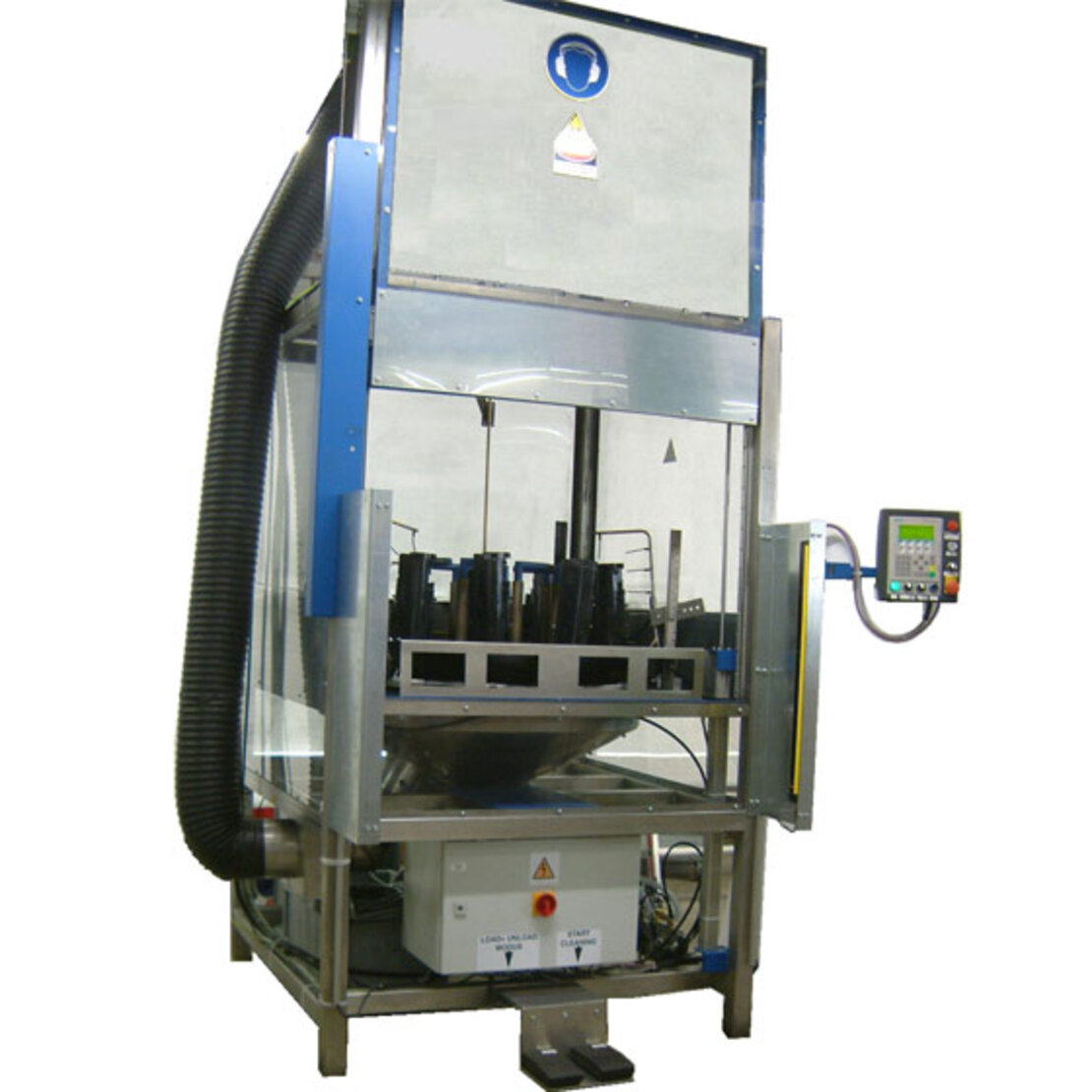 Capacity: 250-400 Kyocera cartridges/hour
Power consumption: 2,8 kW
LxWxH: 1.300 x 1.300 x 2.150 mm
many different toner-kits
Automatic emptying of the waste toner
ATEX certification available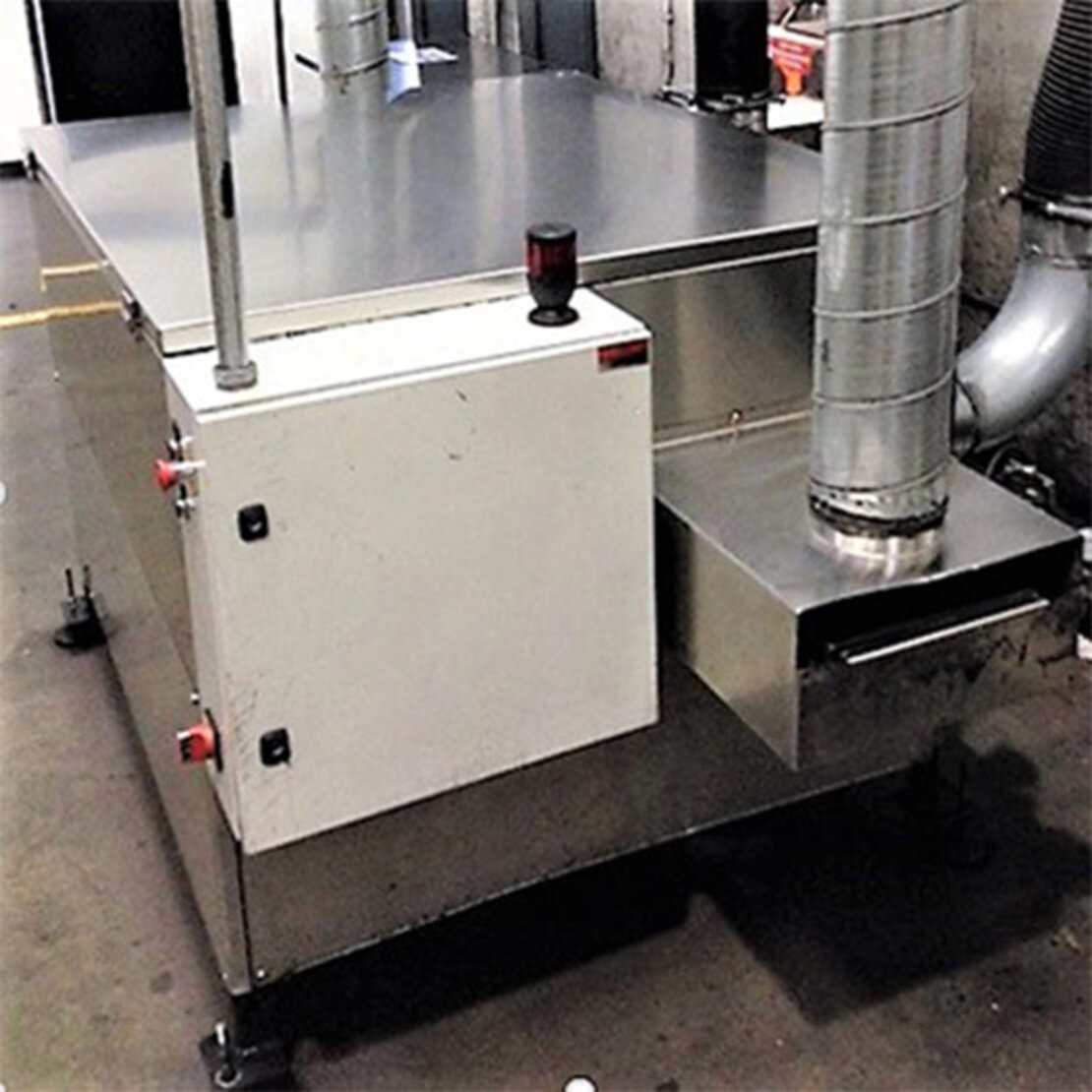 LxWxH: 2.634 x 1.350 x 1100 mm
Power consumption: 16,5 kW
Capacity: 300-500 rollers/hour
More capacity available on request